All. The. Feelings.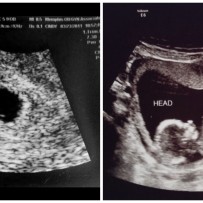 I don't always "schedule" it like I should. You have to schedule it — grief that is. I can't conjure my emotions or an emotional response, however, and so scheduling grief isn't always easy and sometimes, well, it just comes.
I'm at home working on my Board of Ordained Ministry work today (and not getting far). It's a beautiful day outside and the boys are at preschool/daycare. It's quiet. I've gone outside a few times to hear the children playing on the school playground behind my house — like, directly behind. I'm just about on campus of the school next door and, if I happen to be home during the week, I hear them all day long which is kind of nice. Their joy is really contagious.
I'm sitting on the couch with my feet propped on the coffee table, drinking a milk shake, and writing — Grey's Anatomy reruns have been on in the background. A minute ago, out of my peripheral, I caught the end of an episode. Derek and Meredith were having an ultrasound and just found out they're having a boy.
All. The. Feelings.
All the feelings came. The memories of discovering both boys were on the way and the joy. Discovering they'd be boys. Birthing them. The roller-coaster rides of getting them both here. Their first moments. Their hiccups. And still, all their movements and hiccups. The fear. The joy. The pain. The happiness.
I didn't want to be finished.
I really think that I wanted to feel all those feelings again and maybe I will still but at this moment, along with all the "other" that's died over the last 2 years, it seems that dream has died as well and, well, All. The. Feelings.
It's not really surprising. The song "Let it Be" makes me cry because a dear friend sang it at my mother's memorial service. Walks on Lambuth's campus make me cry because of a special time I had with Craig there. Pictures of Irish Setters make me cry because our dog is no longer 'our' dog. I can generally "call" those things. If I want to schedule grief, I start there. But it doesn't always work and still other things surprise me. The ultrasound, it surprised me.
There's not really an upper here and I'm ok with that. I think the upper will come someday. In fact, most have said it would (since the beginning of all of this). Until then, I find comfort in Matthew 5:4 — Blessed are they who mourn, for they will be comforted.