Blue Christmas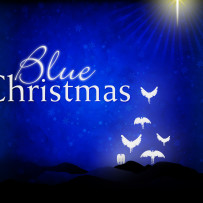 Thanksgiving was two days ago. Of course, you know what that means. Christmas carols are on the radio (Straight No Chaser Holiday station on Pandora for me). Cheesy Christmas movies are on. Lifetime has a million. I dragged the tree out but haven't decorated it yet — something I surely should be doing right now but I've already had a run-in with one tree today (that's another story). Jefferson St. in Paducah is already filled with holiday cheer accept for the few who, like me, haven't dragged their pumpkins to the trash can yet. They're still so pretty…'Tis the season, I'm sure.
But it isn't. It's ok, but it's not at the same time. You know me. I'm honest. I'm authentic. I can be raw. So, here it is, today I'm sad.
Last year I hosted my first-ever Blue Christmas service. The service was very pretty. It was quiet. It was a bit somber. It was supposed to be. It was a time when folks who weren't filled with holiday cheer could talk about why the holidays were actually hard for them. It was raw. It was authentic. It was honest. And, really, it was a bit sad. It was community, though. Community gets us through the 'sad.'
It wasn't really until I got to our service and started presenting that I realized that the service was something 'I' needed. It was my second Christmas without my mother. The first, I'd been so preoccupied with a 5-month-old and 3-year-old and trying to keep my marriage afloat that I was adequately distracted. But last year I was in a new place away from family and most of my closest friends. My marriage had died. My mother had died. It was a raw season. It felt good to be in community. It felt good to share.
Today I'm sad. Somehow it all got messed up — the calendar. We had things situated. It was all going to be ok. The boys were set to wake up here on Christmas morning and eat cinnamon rolls like we always do and see what Santa left before we got ready and headed to church. But somehow it all got messed up. It's not my weekend. How did that happen? I switched things around to go to a continuing education event in Florida a few weeks ago and it all got messed up. It's messed up.
I thought last year might be the bluest until an hour ago. I'll beg and plead but won't get too far. I'm not so sure what to do. I've never quite known what to do when fighting a good fight always means that I still lose.
So Christmas carols? Meh. I'll pass. Finish the tree? It feels different now. Advent maybe. Maybe I'll find peace in the waiting. We'll talk a lot about peace in a few weeks. Maybe I'll light the candles on my new Advent candle arrangement and just breathe……..in……..out. Come thou long expected Jesus. Fill me in my emptiness. Empathize with my 'blue.' Bind my heart to you — to community. Give me peace.
Is it blue for you? I pray it isn't. If it is, though, I'm ok to join you in it.