The Marathon Mom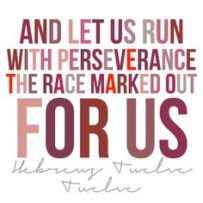 I've been falling asleep before 9:00 pm. Yes, you read that correctly. The only real hurdle with this sad reality is that I'm waking up well before the sun rises. Between 5:00 am and 6:00 am, I'm running the marathon to-do list and enabling the anxiety (or adrenaline, depending on the day and the list) to begin circulating. Yesterday was one of those days — one of those days that never seemed to relax and, not unlike a week's worth of days before, I was 'out' sometime around 9:30.
Thursday:
At 6:10 I was awake — wide awake — begrudgingly greeting the day, trying with all my might to welcome it as a 'gift.' At 6:30 my feet hit the floor. I shuffled to the kitchen to make lunches. One gets PB&J. Two gets turkey (don't forget the mayonnaise — gross). One gets applesauce. Two gets a cheese stick. One and two get Fruit Loops and Goldfish — a favorite combo. One gets a coolaid juice-box. Two gets his water cup. Back and forth through the kitchen. Somewhere in the middle, I remember to turn the Keurig on and stick a k-cup in, sliding a coffee cup under — sweet nectar of the gods — the first sip.
At 6:45 I rush to throw on my "funeral dress" — it's easy, it's clean, it's comfortable. I'm set for a long day. At 6:50 I run a flatiron over "second day hair," and clean off what's left of yesterday's makeup. I quickly take a sip of my still-hot coffee. I've already walked 1K steps according to my watch tracker. 6:59 — I take a deep breath, lay out the boys already-ironed clothes on my bed, and head down the hallway, flipping the light-switch on the way.
At 7:00 I head into the boy's room, turn their overhead light on, and turn the dial down on their sound machine. I turn the closet light (nightlight) off and sit down gently on Aiden's bed. "Rise and shine and give God the glory, glory. Rise and shine and give God the glory, glory. RISE. AND. SHINE. AND. Give God the glory, glory — children of the Lord." 2x through does it every time. Groggy boys sit up — hair unkempt — grumbling. Two: "I want muppin's (muffins)," before his eyes are completely open. One: "Mornin'," with a half-smile. Their feet hit the floor.
At 7:05 One goes to my room, strips down, puts his clothes in the hamper — he'd had an "accident." He manages to clean himself up and get dressed. Two, again, 'whines' for "muppin's." I run to the kitchen to get his breakfast as he plops down on the couch in the living room, Roku remote in hand, browsing the selections on Netflix for the Curious George Christmas episode they're obsessed with right now. One wanders in asking for a hair brush. Two asks for Gatorade — not orange, purple — not that purple; the other purple. I grab them both juice, take a sip of my now-lukewarm coffee, and brush my teeth.
7:20 — I throw on eye make-up — not all my make-up — just enough to not look, you know, tired or sick. One wanders in asking for his toothbrush. Two wanders in wanting his as well. He needs help reaching the faucet and doesn't want to stand on the stool. I hurry to finish brushing my teeth, forego mouthwash, and hold Two dangling over the sink so he can (his version of ) brush. One takes the liberty to rush in the living room and change Netflix over to My Little Pony while Two isn't watching which results in a knock-down, drag-out, and my confiscating the remote — bitter, angry tears. I take a sip of my cold coffee.
At 7:30 Two and I enter our negotiating tactics in the usual stress-inducing plea to get him to let me help him get dressed. He doesn't want to take off the pull-up he's been in for way too long. He doesn't want to wear those shorts. He doesn't want to wear socks with his shoes. The socks hurt. The shoes itch. The socks itch. The shoes hurt. He didn't get to pick out his underwear and is irate that we're putting on PJ Mask undies instead of Paw Patrol. He no longer likes the color green. He just wants to sit in my lap and forgo getting dressed. My threats to not let him go to school if he doesn't get dressed, backfire because, again, he'd rather just sit in my lap all day. I fight him into clothes and appease him with the bribe, "But look! You get to wear your new jacket!" Save. I nuke my cold coffee for 30 seconds and burn my tongue on a sip.
At 7:40 I double — no, triple-knot — One's shoes; he still can't tie them; grab their backpacks (Two whines that he wants to wear his), I run to the fridge and grab their lunch boxes, I grab my keys and we head to the garage. One climbs in and buckles himself into his car-seat. Two wanders around the garage, ignoring the fact that there's a car he's supposed to get in. I tell him to get into the car. He stares at me as if I didn't say a word. I tell him to get in, again. He walks toward a bicycle. I beg him to get into the car — "We're going to be late." He slowly walks to his side of the car and merely acts as though he's going to get in. I threaten him with every threat I can muster. He finally, slowly, climbs into the car and I wrestle him to buckle, inducing angry tears because I didn't let him do it himself. 7:47 — we pull out of the driveway. I forgot my coffee.
At 7:55 I dodge 5M children and a dozen cars driving in all directions to get into the parking lot at Snowden. Parking is rough. The lot is "every person for themselves." Folks pretend to ignore the fact that other folks are there, as they drive the wrong way. I carefully back myself into a spot so that, after the bell rings and the drop-off is made, I can quickly (carefully, and politely — someone's gotta do it) pull straight out. I unbuckle One and he gets out — forgetting his backpack and lunchbox (something I remedy). I unbuckle Two and wait for him to get out. He climbs over the seat demanding to get out on One's side. I circle the car and let him out. He's got to do it 'his way.' We quickly walk across the campus — dodging kids who are running all sorts of ways, waving at teachers I'm beginning to recognize, exchanging niceties with other moms (and a few dads) who look as though they've had the same morning I have, and get One to the kindergarten door 1.5 minutes before the bell rings. "Have the best day ever. Be kind. Do your best work. Make a new friend. Eat ALL of your lunch. Be a rock star. I'm proud of you." Hugs. 8:00: the bell rings and One disappears into a flood of small people.
Two and I run back across campus (because all of the sudden he decides he's in a hurry), climb back in the car, and begin our terrifying trek from one school parking lot to the next, halfway across Memphis. I'm so lucky to have discovered that I don't actually have to risk my life driving down Poplar at 8:15 am. We cruise down Central to Highland as Two tells me random stories that make no sense from the backseat — enjoying a few minutes of being the only child. 8:25: We get to St. Luke's UMC. I circle the full parking lot twice and find a spot. Two is NOT happy with the parking spot I choose (the ONLY ONE AVAILABLE) and grumbles about getting out. I finally convince him he'd rather go inside and play with trains. We rush in. He quickly settles in his class, after hanging his backpack on it's rightful hook. I check in with his teachers and rush back to the car. 8:35.
I make it back across town and home again by 8:50, rush in, finish my makeup, throw One's bed-linens in the washing machine and start it, feed Max (the cat) who's kicked his empty bowl across the kitchen floor, take my medicine, and quickly toast bread and fry and egg that I scarf down. I now have 4k steps on the day. I never finished my coffee. I grab my computer, my purse, my Lean Cuisine, and my keys and head to the office — 9:10. The office opens at 9:00. That's not bad, right?
I check in with my secretary. I've got a stack of phone messages — some of which need clarification. I have a few personal things to fax. Shelby County Schools needs One's immunization records transferred from a Kentucky certificate to a Tennessee certificate. I quickly type a cover letter with loads of personal information, dig up the scanned file with his records in it, and fax them to "Allison" at Well Child who does this work. Just then, Laurelwood Pediatrics calls so I can finally set One and Two up with a pediatrician. I give her all their info, our insurance info, and set Two up for a 3-year well-child appointment. I need to send a police report to State Farm from when I was rear-ended 2 weeks ago. I pull out the case number and try to look it up online — something one cannot actually do in Memphis. I call Memphis Police Department. "Your report will be $15." I express my displeasure, pay the fee, and pull up the report that is digitally sent to me. Every single detail on the report is wrong and there is NO information on the man that hit me, least of all his insurance info. I call Emily at State Farm (she's not "hideous;" she's delightful) and we try to find a solution. It's still unresolved. 10:00.
At 10:00 I call Pastor Goyo in our conference to try and help him settle some refugees that are coming up from Florida ahead of hurricane Irma. We'd take them but we don't have showers at the church. I wish we had showers at the church. I mentally add "showers" to my TUMC wish list.
By 11:00, I finish the order of worship for this Sunday's service. It's Thursday, after all, and I haven't had a second to look at it. I email it to my liturgist and pianist and go over it with my secretary (who, along with a second person, will proof and print it — thanks be to God).
I pause to jog in place. I've been sedentary too long. By 11:20 I have 7k steps.
At 11:20, I dig out receipts for my finance secretary and pull resources for my sermon for Sunday. At 11:45, I nuke my lean cuisine and chat with my front-desk volunteer. By 12:15 I finish my lunch and get my wits together for some afternoon visits. I jog in place. 10k steps.
At 1:00, my afternoon visit partner shows up and we head out to make some homebound visits. From 1:15 to 2:00 we spend time with the most lovely southern gentleman I've ever met. From 2:15 to 2:45, I'm introduced to St. Peter's Villa and the kindest woman I've met in ages.
At 2:50 I rush my partner back to church and head back to Snowden to pick up One at 3:00. He's had a great day, done a good job, and been praised for his behavior. We rush home and quickly do his homework and get a snack. At 3:45 we jump back in the car to run and pick Two up early — I've got a meeting at 6:00. We head back down Central and make it to St. Luke's. Two is on the playground and wants to show me how he goes down the slide. He then refuses to hold my hand in the parking lot — because why be 'easy?!?'
At 4:30 we get home. I throw One and Two in the bathtub and get them clean-ish. They get out and put pjs on. One colors. Two turns Curious George on (again), and I fix their dinner. One gets a hotdog. Two gets grilled-cheese. They both get mandarin oranges and a few other random sides. They eat. I throw a piece of salmon in a skillet and heat some black beans. I throw a fried egg on top and scarf it down while bribing both kids to "eat one more bite" until their plates are clean. I have 14k steps on the day. It feels like it should be more.
At 5:15 I race through the house switching the laundry over, running the vacuum, picking up random messes, and gathering my things and thoughts for my meeting. At 5:50 my sitter shows up. She's a church member and a grandmother and I trust her implicitly. Her husband is on my committee (that's meeting at 6:00), so I just jump in his car and we head to our meeting. The meeting is from 6:00 to 7:30 — not bad — and is a very productive meeting except by now my ability to articulate myself as best I can is gone.
At 7:45 we get back, hear about the boy's night, and say goodnight to our "friends."
At 8:15 we go to the potty one more time, put a pull-up on, make One's bed with the linens in the dryer, grab 7.5 stuffed animals and 2 blankies, sing two songs, say prayers, and tuck in with hugs and kisses.
At 8:30 I jump in and out of the shower, throw on last night's pjs, check my email one last time, answer my email one last time, send one more text, take my medicine, eat a snack, and turn on my TV. I make it about 30 minutes.
It's been a marathon of a day, 17k steps, however, a gift.